Harvey Nash/KPMG
WORLD'S LARGEST IT LEADERSHIP SURVEY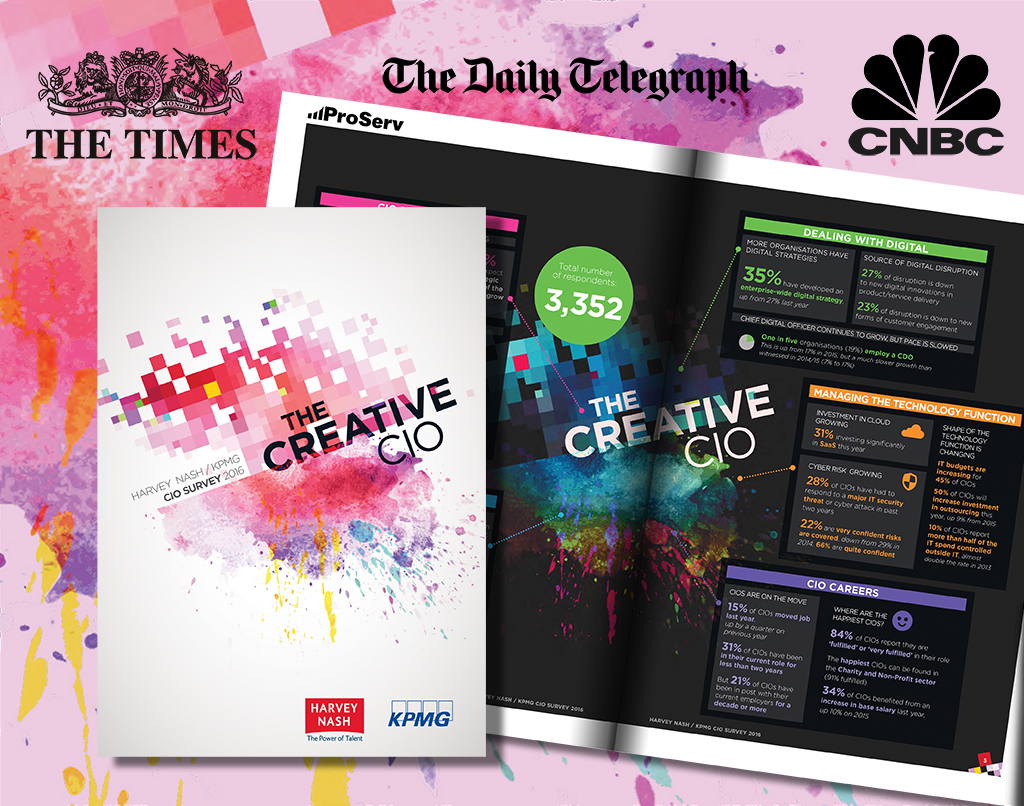 We were brought in to help media launch the Harvey Nash/KPMG CIO Survey in 2016. The report had been successfully published for a number of years, but during 2016 a strategic decision was made to take the survey brand to a new level internationally, which included both marketing and media relations.
This IT leadership survey is the largest in the world, capturing the views of almost 4,500 IT leaders from over 86 countries, with a combined IT spend of more than $300bn. In short, the jointly branded report covers the key topics that affect IT leaders and organisations across the world.
Through working collaboratively with US-based PR/Marketing representatives from both Harvey Nash and KPMG, we helped develop the global press and social media communications for the launch, which included press releases, Q&A interviews, comment pieces, and infographics.
The 2016 launch achieved widespread coverage across the UK's national, technology and business/management press. Because of its success, we were brought in to launch the 2017, 2018, 2019, 2020 and 2021 reports.
Rob Grimsey, Group Marketing Director at Harvey Nash, said:
"As the CIO Survey is the largest IT leadership survey in the world, we needed to ensure that it was featured across international, national, technology and business press. Your role in helping to shape the story for the media, and developing opinion-led content that can be disseminated across marketing channels, has been crucial to raising awareness of the survey findings and our market perspectives."
Results included:
In both 2016 and 2017, the press campaign was planned around the London launch event, the first in the CIO Survey event series. We continued to pitch angles to the media for a further two months to keep the report content alive and relevant, while other events were hosted in the likes of Birmingham and Newcastle.
In 2016, press hits included The Times report, The Future CIO, Computer Weekly, ZDnet, Computing, Computer Business Review, and IT Pro Portal.
In 2017, the total number of press hits increased by a quarter and included big hitters like CNBC, Yahoo Finance, Management Today, The Times, and the Daily Telegraph.
In 2016 and 2017, a number of viewpoint/comment pieces were developed, pitched, and placed in the target media. Titles/topics covered included: The Creative CIO, The Cloud's the limit, Six Big Bets for Digital Transformation, Cyber Threat: we're all insiders now, and Architecting the Digital Enterprise.
In 2019 and 2020 coverage levels have continued to increase – with annual coverage for the Survey increasing by 150% since the first launch in 2016.