Source Global Research
AMPLIFYING CONSULTING MARKET DATA ACROSS THE WORLD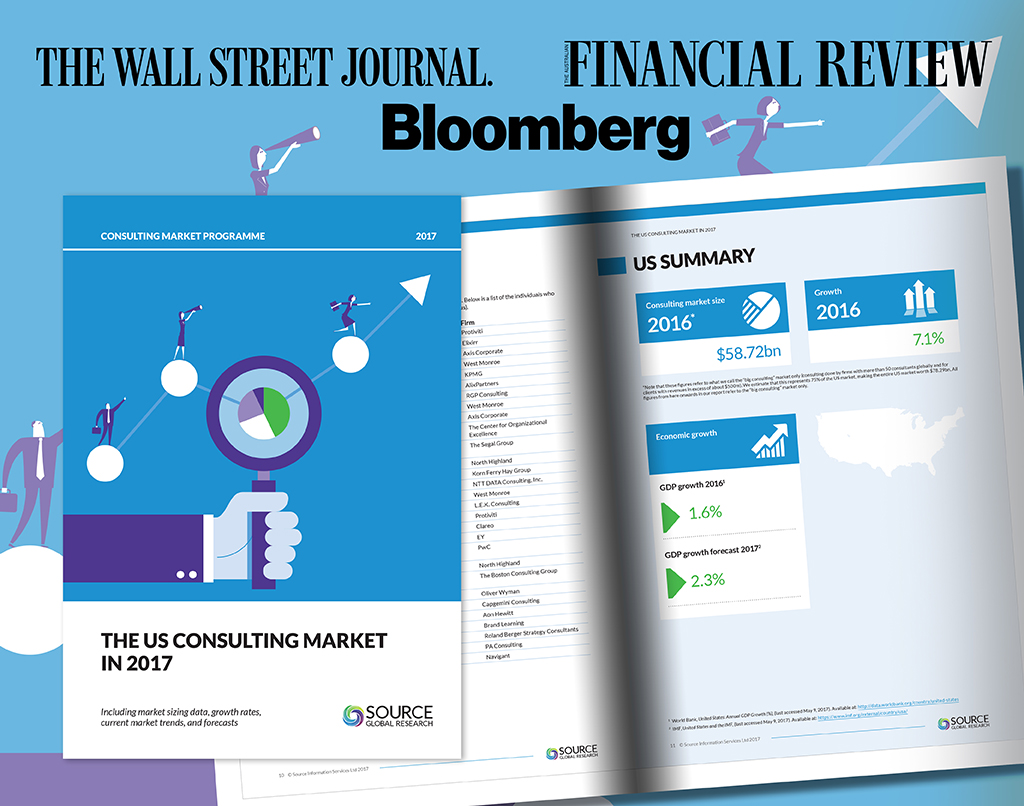 Source Global Research is a leading provider of information about the global professional services market. The Source global consulting data model is the biggest and most sophisticated model of the consulting industry ever created, and the model on which many of the world's leading consulting firms now base their understanding of the size and shape of the consulting industry.
We have worked with Source since it was founded in 2007. Fourteen years later, the top twenty global consulting firms are Source clients. As a result of our work, the Source website has benefited from inbound links from The Wall Street Journal, Bloomberg BNA, People Management, Accountancy, Management Today, economia and many more media outlets. This has not only driven traffic to the site to purchase reports, it has also supported its wider SEO.
Fiona Czerniawska, Founder of Source Global Research, commented:
"We've really benefited from your knowledge of the consulting industry and the many excellent media contacts who respect your judgement. To date, the results from the Source Global Research PR campaign have delivered a return on investment of more than 30 times the PR spend."
In addition to dominating consulting market debate in the UK media, we have taken Source data across the globe:
US – We launch the US report each year in New York. Report data and Source analysis has been featured in the Wall Street Journal (WSJ), Bloomberg, New York Times, and the Washington Business Journal. Following a WSJ feature, an analyst from one of the world's top twenty consulting firms, said: "We know how difficult it is to get an 'earned-media' piece in the country's No. 1 business publication – a huge acknowledgement of the credibility and substance of your insights and perspective."
GCC/Middle East – We've launched the GCC report in Dubai for the last six years. Source highlighted that media coverage has helped the GCC top its global list of report sales relative to the size of its consulting market. Regular press hits include The National, Bloomberg, Saudi Gazette, Trade Arabia, and Dubai Eye.
DACH/Germany – Although a highly competitive consulting market, through working closely with our German based PR associates, we have achieved features on Source reports in Handelsblatt and the wider German national/business media.
Australia – The Australian report and Global Attractiveness Report have both featured in The Australian and Australian Financial Review two years in a row.