Clifton Asset Management
TURNING PENSION POTS INTO BUSINESS FUNDING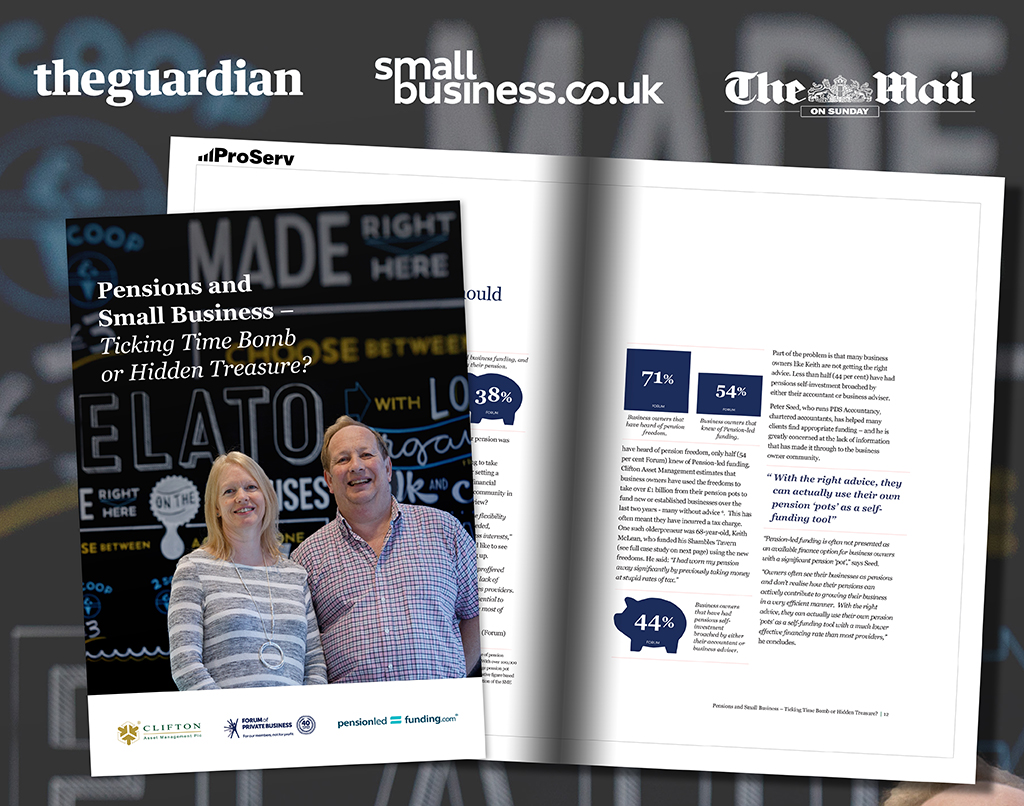 We have been working with Clifton Asset Management and Pensionledfunding.com for over nine years. Key aims are to raise the profile of a form of small business funding, called Pension-led funding, and drive leads from small business owners through media exposure.
We have devised several campaigns to achieve these aims. More recently we established a campaign partnership with The Forum of Private Business (The Forum), a business support organisation with well over 8,000 small business owners as members. We worked closely with The Forum to develop all of the content for the report, entitled "Pensions and Small Business – Ticking Time Bomb or Hidden Treasure?".
Anthony Carty, Group Financial Planning & Business Development Director, Clifton Asset Management plc, said:
"We have six channels for client acquisition: direct mail, web, professional connections, referrals, previously 'lost' opportunities and PR. In terms of conversion ratio, historically PR is the most successful."
Ticking time bomb campaign:
We devised and commissioned the research with YouGov and The Forum, developed the report content, design, and infographics, assisted in preparing the report viewpoints, and launched the news story.
The report featured widely – including The Mail on Sunday, The Times, Smallbusiness.co.uk, and Startups.co.uk.
Advocate comment was developed and disseminated through all media, social and marketing channels.
Nine years of upping awareness and driving interest: